In vitro fertilization (IVF) is a type of assisted reproductive technology that involves retrieving eggs from a woman's ovaries and fertilizing them with the retrieved male sperms. IVF process includes ovulation induction, egg retrieval, fertilization, embryo transfer, and implantation into the uterus. After performing these steps successfully a positive embryo is formed. Here you can find the list of Top 10 Best IVF Centres in Lucknow with IVF packages, Success Rates, Services & working fertility specialists in Lucknow. The best IVF centers in Lucknow are chosen based on IVF success rates in Lucknow, treatment quality, patient's opinion, doctor's qualification, and location accessibility:
Morpheus Lucknow Fertility Center, Lucknow (Best IVF Centre in Lucknow)
(Best IVF Centre in Lucknow)
Indira IVF Lucknow (Best IVF Centre in Lucknow)
Javitri Hospital & Test Tube Baby Center, Lucknow (Best IVF Centre in Lucknow)
Shriram IVF Center, Lucknow (Best IVF Centre in Lucknow)
Ganga Laxmi Clinic Gynae and IVF Centre, Lucknow (Best IVF Centre in Lucknow)
Dr. Bagchi's Gynecology And IVF Centre, Lucknow (Best IVF Centre in Lucknow)
Amrita Infertility Centre, Lucknow (Best IVF Centre in Lucknow)
Mother's Care & IVF Centre, Lucknow (Best IVF Centre in Lucknow)
Nova IVF Fertility, Lucknow(Best IVF Centre in Lucknow)
1. Morpheus Lucknow Fertility Center, Lucknow (Best IVF Centre in Lucknow)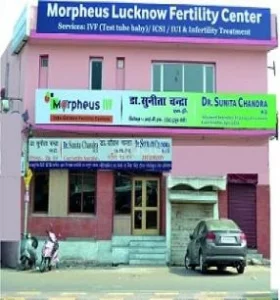 Dr. Sunita Chandras Morpheus Lucknow Fertility Center is an IVF Clinic located in Hazratganj, Lucknow. It is the first and largest chain of Indo-German fertility centers in India. Dr. Sunita Chandra specialized in Obstetrics and Gynaecology and subsequently pursued her career in infertility management. She took advanced training at IRM, Calcutta and Kottayam, Kerala. She has pursued B.Sc., MBBS, MD, and various other training and courses. Dr. Sunita Chandra has been practicing assisted reproductive techniques for the last 25 years and has a patient following far and wide. She is the Core Fertility Specialist at Morpheus Lucknow Fertility Center and has received training for IVF, advanced infertility and Human Reproductive Endocrinology at Bad Münder, Germany.
Our Fertility specialists in Lucknow and are internationally trained from leading medical institutes. They have participated in several international conferences and medical seminars to continuously update their clinical knowledge and skills to perform successful IVF treatments. It specializes in several Infertility treatments and offers services like Infertility Assessment, Invitro Fertilization (IVF), Intrauterine Insemination (IUI), Laparoscopy, Hysteroscopy, Testicular Biopsy, MESA procedures. Dr. Sunita Chandra practices at Rajendra Nagar Hospital. The hospital has an excellent team of doctors and staff which provide the best quality treatments to the patients visiting the hospital.
2. Ajanta Hospital and IVF Centre, Lucknow (Best IVF Centre in Lucknow)
The mission of Ajanta Hospital & IVF Center, Lucknow is to provide quality health services and facilities for the community, to promote wellness, to relieve suffering and to restore health as swiftly, safely and humanely as it can be done. To be consistent with the best service we can give at the highest value for all concerned. We are committed to offer our best and to ensure patient's satisfaction on the highest level when they leave us after treatment. Being a dedicated IVF Center we concentrate on infertile couples with prime focus on the needs of their counseling, privacy, and confidentiality. Since the requirement of every individual is different so we provide the best-individualized treatment to patients, tailor-made to suit their needs. As a multi-super specialty Hospital, our vision is to make the entire process of treatment a memorable experience for our patients and their caretakers with our holistic approach and quality patient care.
Dr. Gita Khanna has established Ajanta Hospital and IVF Centre a 100 plus bedded multispeciality hospital of International repute. The state of art IVF Centre of this hospital combines quality, compassion, integrity, responsibility, and accountability in equal measures and is providing assisted reproduction techniques of International standards within the reach of every individual. Dr. Anil Khanna has also established Ajanta Hospital, Doctor couple's unblemished efforts help to gain a dauntless and successful outcome. they devoted 25 years of their life to the service of mankind accepting all challenges with the spirit to ever grow and ever learn the latest and International Scientific Medical technology and bring it to this part of the country.
3. Indira IVF Lucknow (Best IVF Centre in Lucknow)
Indira IVF Hospital Pvt Ltd in Hazratganj, Lucknow has a well-equipped and well-maintained clinic. It is sectioned into a waiting area for patients, where they can wait for their turn. This clinic has a consulting room, where this practitioner attends to patients between the consulting timings. We take this opportunity to thank Dr. Ajay Murdia and his team of infertility specialists at Indira IVF Lucknow. We also would like to thank them for inviting us to the opening of their new infertility hospital at Lucknow, Uttarpradesh. Both of us are very excited to meet Dr. Ajay Murdia at his team of IVF specialists at the IVF center in Lucknow.
As when we were treated, they had no infertility clinic in Lucknow, but now with this new IVF center in Lucknow more and more people will be benefitted. The profoundly worldwide specialized IVF clinics overture high pregnancy rates to, but Indira IVF clinic in Lucknow and Test Tube Baby Center Lucknow is one of the sought-after destinations for IVF treatment in India amongst many other supposititious and reliable centers which provides the cheapest IVF treatment as it doesn't be convinced of inputting a price tag to your happiness and motherhood relation. Indira IVF infertility treatment Lucknow provides a cost-effective IVF, IUI, and ICSI Treatment to achieving pregnancy.
4. Javitri Hospital & Test Tube Baby Center, Lucknow (Best IVF Centre in Lucknow)
Javitri hospital has been functional since the last 28 yrs started in its present location in 2000. Now it is a fully equipped hospital with a specialized unit of ICU, NICU, dialysis & Trauma. It is famous for its infertility unit which is of international standards and protocols. The hospital is located in Telibagh at Lucknow on the bank of the Sharda canal on Raebareli Road. It is about 10 km from Charbagh Railway station and 11 Km from Hazarat Ganj the center of Lucknow. Hospital has set up another infertility unit (Javitri Test Tube Baby center) at Badshah Nagar Lucknow. Javitri Hospital aims to provide private and completely confidential care during which both partners can be fully investigated and the appropriate treatment instigated.
The specialist consulting the couple may arrange following investigations within a professional and comfortable atmosphere of our clinic. Infertility is a complex problem and affects one out of ten couples. The cause may be attributable to both partners. This frequently leads to a feeling of misery, guilt, and loss of self-confidence. Many couples in this situation feel the need for very personal care without having to wait for months for the appropriate tests to be carried out. The latest equipment provides advanced services like freezing, laser hatching, and the availability of Embryoscope. With Embryoscope now it is possible to see your Embryos growing and select the best ones for implantation. Now with blastocyst culture in Embryoscope, we can give successful results up to 80%.
5. Shriram IVF Center, Lucknow (Best IVF Centre in Lucknow)
Welcome to the Centre for assisted reproductive technology embryology and endoscopy a state of the art Fertility Center located at A-1036, Shalimar Crossing, Indira Nagar, Lucknow – 226016. We are the premier Fertility clinic in the Lucknow city Just seven kilometers away from Central railway station and bus terminal. Our Center is only 23 km from Lucknow international airport. We are looking forward to helping you out achieve your dreams in the most dignified, personal, professional, and caring atmosphere. Our patient care philosophy stems from the fact that each couple should receive the best scientific and humane care possible in a welcoming and warm atmosphere. Our patients come from all over the country to pursue their dreams of experiencing parenthood.
Shriram IVF Centre was born to provide a full range of infertility and diagnostic treatment services to infertile couples. We also provide the full spectrum of diagnostic services for male and female infertility. Our center services include "first-level" treatments such as medications and IUI as well as the most advanced reproductive technologies including IVF, ICSI, PGD, assisted hatching, Embryoscope, and other newer ART technologies. Shriram IVF Centre is a multidisciplinary organization dedicated to the advancement of the art, science, and practice of reproductive medicine. The Shriram IVF Centre accomplishes its mission through the pursuit of excellence in education and research and advocacy on behalf of patients, physicians, and affiliated health care providers. The Shriram IVF Centre is committed to facilitating and sponsoring educational activities for the lay public and continuing medical education activities for professionals who are engaged in the practice of and research in reproductive medicine. The Vision of the Shriram IVF Centre is to be the nationally and internationally recognized leader for multidisciplinary information, education, advocacy and standards in the field of reproductive medicine. The Shriram IVF Centre is an organization whose members must demonstrate the high ethical principles of the medical profession, evince an interest in infertility, reproductive medicine and biology, and adhere to the objectives of the Society.
6. Ganga Laxmi Clinic Gynae and IVF Centre, Lucknow (Best IVF Centre in Lucknow)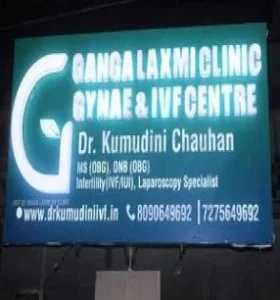 Ganga Laxmi Clinic has been established in loving memory of our parents who left us in pain before we could become doctors. So we are treating every patient in such a way that we can pay homage to our parents. Our aim of starting the IVF center is to provide Cost-effective and indicated fertility Services. Our team of expert doctors & paramedical under the guidance Infertility expert & director Dr. Kumudini Chauhan are dedicated to providing ethical transparent and indicated treatment. Dr. Kumudini Chauhan is a Gynaecologist with a specialization in IVF, Infertility & Laparoscopy. We have the best IVF facilities with the best Doctors and Technicians. Our services are affordable. Just call us and leave the rest to us. Dr. Kumudini Chauhan Ganga Laxmi Clinic- Gynae & IVF center in Gomti Nagar, Lucknow is one among the celebrated Clinics, having practiced the medical specialization for many years.
This medical practitioner's clinic was established a while ago and since then, it has drawn scores of patients not only from in and around the neighborhood but also from the neighboring areas as well. This medical professional is proficient in identifying, diagnosing and treating the various health issues and problems related to the medical field. This doctor has the requisite knowledge and the expertise not just to address a diverse set of health ailments and conditions but also to prevent them. As a trained medical professional, this doctor is also familiar with the latest advancements in the related field of medicine. The clinic of this doctor is at 2/301, Viram Khand, Gomti Nagar-226010. The commute to this clinic is a rather convenient one as various modes of conveyance are easily available. To get more information and to schedule an appointment with this doctor, citizens can reach out on the following contact number +(91)-9643264509. This listing is also listed in Clinics, IVF Centres, IUI Centres.
7. Dr. Bagchi's Gynecology And IVF Centre, Lucknow (Best IVF Centre in Lucknow)
Dr. Bagchi's gynecology and infertility center is a dedicated facility to treat all aspects and causes of infertility. Our comprehensive range of infertility treatment options includes in-vitro fertilization (IVF), intracytoplasmic sperm injection (icsi), intrauterine insemination (IUI), laparoscopy, hysteroscopy. Our word class IVF lab has been set-up by CooperSurgical Fertility and Genomic Solutions USA, an international leading brand in this field. Our state of the art IVF workstations and laminar flow are UL-certified – an international marker of extensive safety and quality. Fertility problems are challenging – not just physically, but also emotionally and psychologically. We are here to help at every step of your fertility journey. We support our patients with the knowledge and information to enable them to be involved in their fertility management and encourage them to discuss any anxiety and problem and can depend on our absolute discretion.
The soothing and relaxing ambiance of the clinic along with ultra cleanliness reduces anxiety, stress and fear of patients for their ailment. Our IVF Lab Has Been Set-up By Cooper-surgical Fertility And Genomic Solutions USA, An International Leading Brand In This Field. Our State Of The Art IVF Workstations And Laminar Flow Are Ul-certified – An International Marker Of Extensive Safety And Quality. Dr. Sipra Bagchi, an infertility specialist is the medical director of Dr. Bagchi's gynecology and infertility center. She has done MBBS and MD in Obstetrics and Gynecology from the prestigious institute "King George'Medical University" Lucknow. She did senior residency from "Lady Hardinge' Medical College" New Delhi, one of the distinguished institutes known for high-risk obstetrics.
8. Amrita Infertility Centre, Lucknow (Best IVF Centre in Lucknow)
Amrita Fertility Centre is an IVF Clinic located in Faizabad Road, Lucknow. The center provides a wide range of services such as Infertility Assessment, In Vitro Fertilization (IVF), Intrauterine Insemination (IUI), Intracytoplasmic Sperm Injection (ICSI), High-risk pregnancy care, Menstrual problems treatments, and Hysterectomy. Along with this, the center also provides diagnostic services such as Colposcopy, LEEP biopsy, Cryocauterization, Pipelle Sampling, and Cervical cancer screening. Dr. Amrita Gupta practices at the Amrita Fertility Centre. Click on the map to get the right directions to Amrita Fertility Centre. Choosing the right Infertility Clinic in Lucknow is extremely important because this can be your first step towards welcoming your child. The success result depends on several issues before you step into your journey to become pregnant.
Amrita Infertility Centre has the highest success rate for couples that are trying for years to conceive. It is one of the best IVF clinics in Lucknow. Our success rate is amongst the best pregnancy rate. Higher chances of achieving pregnancy in the first shot eventually reduce the cost and bring happiness. With a firm belief that every couple needs special & individual care and attention, our cooperative staff treats our patients as our family members. Amrita Infertility Centre is always happy to help couples with infertility problems. We talk to the couples, researches on their particular issues, weigh the pros and cons and guides them to have a new lease of life.
9. Mother's Care & IVF Centre, Lucknow (Best IVF Centre in Lucknow)
One of the leading gynecologists of the city, Dr. Archana Kanodia (Mothers Care & Ivf Centre) in Indira Nagar Lucknow has established the clinic and has gained a loyal clientele over the past few years and is also frequently visited by several celebrities, aspiring models and other honorable clients and international patients as well. They also plan on expanding their business further and providing services to several more patients owing to its success over the past few years. The efficiency, dedication, precision, and compassion offered at the clinic ensure that the patient's well-being, comfort, and needs are kept of top priority. The clinic is equipped with the latest types of equipment and boasts highly advanced surgical instruments that help in undergoing meticulous surgeries or procedures. Locating the healthcare center is easy as it is Ring Road.
Services offered by Dr. Archana Kanodia (Mothers Care & Ivf Centre) Dr. Archana Kanodia (Mothers Care & Ivf Centre) in Lucknow treats the various ailments of the patients by helping them undergo high-quality treatments and procedures. Among the numerous services offered here, the clinic provides treatments for Uterine Fibroids or Myomas, Ovarian Cysts, Endometriosis, Pelvic Organ Prolapse, Urinary Problems, Vaginal Discharge, Subfertility, Menopause, Gynaecological Cancers, Abnormal Pap Smears – Pre-Invasive Cervical/Vaginal Disease and Vulva Conditions. The doctor is also listed under Gynaecologist & Obstetrician Doctors, Infertility Doctors. Furthermore, the patients also visit the clinic for Contraception Advice, HPV Tests, and Biopsy Tests, etc. As modes of payments, the patients can pay via various payment modes.
10. Nova IVF Fertility, Lucknow (Best IVF Centre in Lucknow)
IVF and fertility clinic in Hazratganj, Lucknow, The Nova IVF Fertility center in Lucknow is the 1st in the state of Uttar Pradesh. Because it is centrally located, this center is accessible to patients from all over the city and also the neighboring towns. This center provides transparent and ethical treatment options ranging from basic to advanced. Some of the basic treatments that the center offers are medical management of infertility, Intrauterine Insemination (IUI), In vitro Fertilisation (IVF) and some of the advanced treatments offered are Magnetic Activated Cell Screening (MACS), Pre-genetic Testing (PGT), cryopreservation, Intracytoplasmic Sperm Injection (ICSI), etc. With a vision to provide best-in-class fertility treatment, all Nova IVF centers in India are equipped with state-of-the-art infrastructure and labs which follow international protocols on maintaining standards in delivering high-quality fertility treatment. The treatment cost of IVF at Nova IVF Fertility centers are affordable and completely transparent. The Nova centers across India provide financial guidance and counseling for their patients.
The team at the Nova IVF Fertility center in Kolkata is made up of highly qualified fertility consultants, in-house embryologists, clinical counselors, and all the support staff who come together and strive to give you the best experience with everything related to your fertility treatment. This center has a world-class lab in which all the latest embryology equipment and stringent processes are in place. This lab features state-of-the-art equipment like micromanipulators, Hera Cell incubators, MACS equipment, Laminar Air Flow, etc. All these assist in ensuring the most advanced treatments for you to fulfill your dream of parenthood. This fertility center also provides diagnostics facilities for all blood investigations about infertility treatments (for both male and female) AMH, antral follicle count, semen analysis, ECG, embryology lab, recovery area, ovum pick, a procedure room, and sample collection. The center also offers cryopreservation for preserving eggs, sperms, embryos.